Background
Our Customer is an air cargo terminal based at the Hong Kong International Airport. It is one of the best airfreight service providers in Asia, offering a comprehensive range of quality services to the world's leading airlines including Qantas Airways, Singapore Airlines Cargo, and many others.
Challenges
Our customer offers a comprehensive range of quality services to the world's leading airlines. In their Data Centres, there are 20 standalone servers which had installed various Back Office applications. Since those servers have been operating for 6 to 10 years and becoming inefficient, the management planned to upgrade their existing servers and adopt new virtualization technology to improve their application availability and flexibility.

The Solution
To help the customer implementing the server architecture design, Electronic Business Solutions Limited (EBS) first updated their recent servers with additional hardware and software. Besides, three new rack mount servers have been installed to enhance computer capability for the VMware Virtualization Infrastructure.
Next step, the 20 standalone servers are migrated into the VMware vSphere® servers for consolidation. Soon after the new vSphere servers finished configuration, they formed as a VMware cluster which can be managed by VMware vCenter server. EBS also installed NetBackup media server to backup the images and applications in all virtualized servers to customer's existing backup devices for data protection.
Benefits
System Automatic Self-Healing
Since the virtual infrastructure is deployed in conjunction with a Storage Area Network (SAN), it provided an additional built-in level of robustness to the customer. The virtual machine thus can survive from a crash of server hardware, as it will restart on another vSphere server.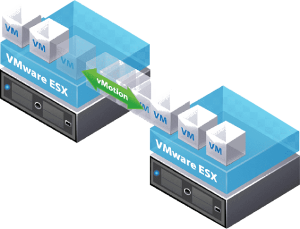 High Availability & Improved Efficiency
With VMware VMotion technology, it allowed live migration of running virtual machines from one physical server to another with zero downtime. If offered continuous service availability to the customer and improved the efficiency of conducting maintenance as it does not disrupt their business operations.
Self-optimizing Servers Resources
VMware can automatically optimize and allocate entire pools of resources for optimal hardware utilization. The customer can now assign a priority and ensure that the most important virtual machines always have access to the resources they need.